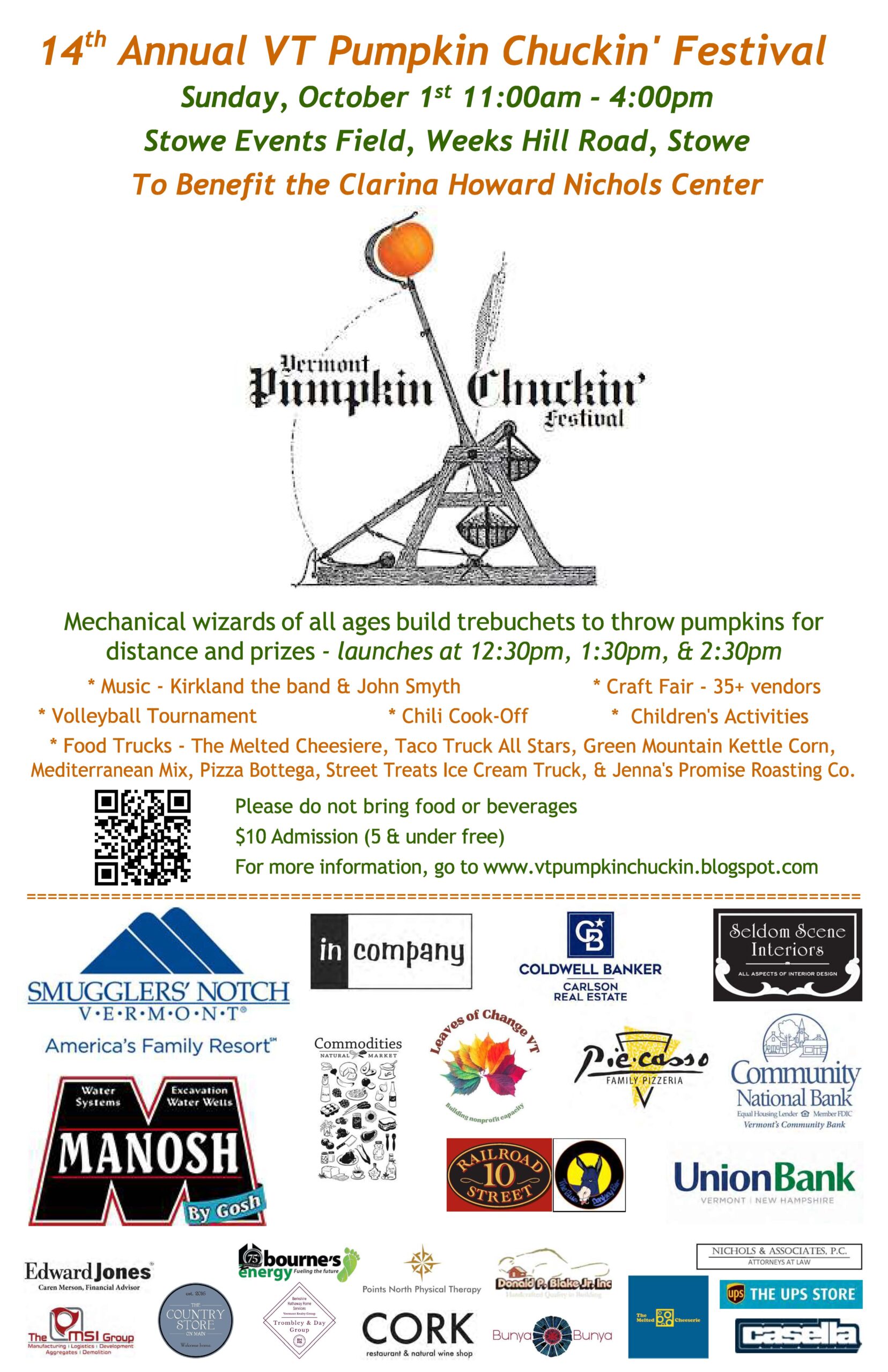 Join us for the 14th Annual Pumpkin Chuckin' Festival!
Stowe, Vermont — This year marks 14 years of the Vermont Pumpkin Chuckin Festival (VTPC) which was awarded USA Today's best fall festival in the nation. This festival celebrates the sport of "chuckin" pumpkins, for distance, using a do-it-yourself constructed trebuchet, which is a gravity powered catapult. Inventors, engineers, woodworkers and tinkerers are challenged to use gravity in creative ways to throw a projectile as far as possible. The contraptions have height and weight limits but no limits on design or materials used. Festival founder Dave Jordan describes the event as a cross between a Soap box Derby (amateur building/engineering) and a shot put contest (throwing for distance). The current record for the massive heavyweight division was set last year by Jonathan Stapleton at 792 feet! His son, Orion Stapleton threw 473 feet in the middleweight division and won the best design with a height-adjusted throw of 810 feet!
The VTPC Festival is a one-day event that benefits the Clarina Howard Nichols Center. Founded in 1981, the Center works to end domestic and sexual violence in Lamoille County.
Mark your calendar for Sunday, October 1. The festival runs from 11am to 4pm and features three rounds of competitive pumpkin chuckin' at 12:30pm, 1:30pm and 2:30pm, with awards shortly after the last round. No dogs, outside food or beverage are allowed at the event.
New to the festival this year is a craft fair with over 35 crafters already signed up. Attendees can purchase amazing Vermont-made products including candles, jewelry, maple syrup, pottery, art work, clothing, and so much more. Last year's three food trucks were a big success so we've expanded to six this year. Bring your appetite and enjoy food from Vermont vendors – The Melted Cheesiere, Taco Truck All Stars, Pizza Bottega, Mediterranean Mix, Green Mountain Kettle Corn, and Street Treats Ice Cream Truck.
Back again from last year are announcers Sean Morrissey and Jake St. Pierre of the award-winning local TV program "Grand Isle Back Yard." Along with the pumpkin chuckin' contest there will be live music, a chili cook-off with cash prizes, a giant robot demo and kids' activities; all creating an enjoyable fall day. Music for this year's festival will be provided by two bands: Kirkland the band and John Smyth. Green Mountain Volleyball will be running a volleyball tournament featuring the best players in the state. Check their website at gmvb.com for details. There is plenty of time to build a fine trebuchet or prepare your best chili for the chili cook off. Pre-registration is not required for the trebuchet contest or chili cook-off.
It costs $10 to enter the festival if you are a spectator, trebuchet or volleyball competitor, but you get in free if you make 2 gallons of chili and compete in the chili cook-off. Chili must be on-site by 11:30am. Entrance is free for children 5 years and younger. Parking is free.
For more information, visit https://vtpumpkinchuckin.blogspot.com/ or contact the festival organizer Dave Jordan at djordan@gmavt.net.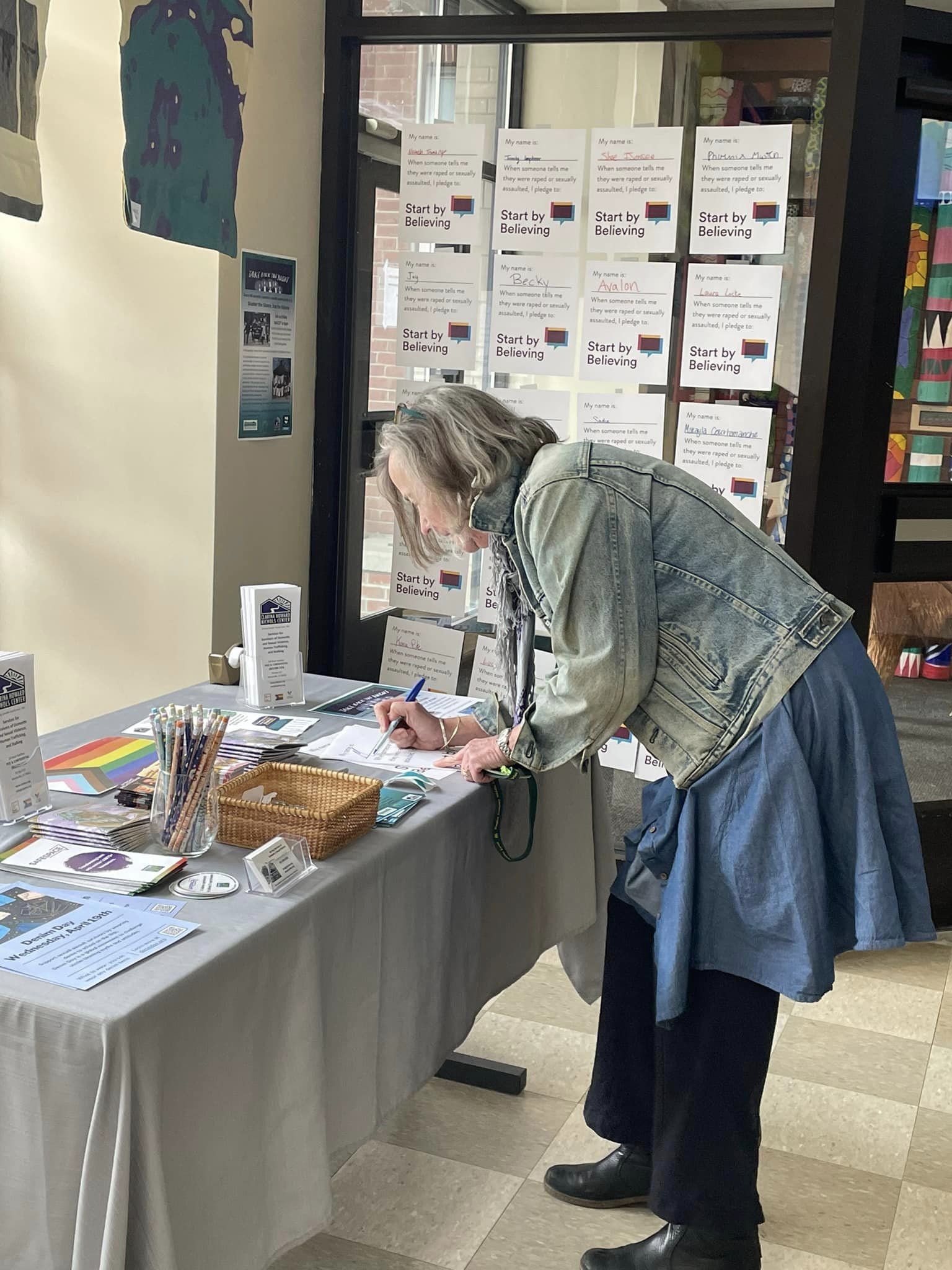 Get Involved
VOLUNTEERING
Volunteering in our shelter, or in other direct service roles requires 20 hours of training. If you would like to volunteer or discuss other ways to get involved, please contact us at info@clarina.org or call our business office at 802-888-2584.
Thank you for your interest!
OTHER WAYS YOU CAN HELP…
Speak Out – Find opportunities in your personal and professional life to stand up to domestic and sexual violence.
Volunteer Your Time – Clarina offers a variety of volunteer opportunities including:
Direct service as an advocate or hotline volunteer;

Specialized service based upon your skills including carpentry, fundraising, and marketing;

Board or committee membership; and

A

ssist

ance

with office functions and special events.
Participate in our Advocacy Training – Increase your knowledge of domestic and sexual violence and the efforts to create a violence free community.
Make a Financial Contribution – Support the sustainability of the Clarina Howard Nichols Center.
Donate items – most needed items include:
Shelter items – toilet paper, paper towels, laundry pods, towels, and garbage bags

Administrative items – postage and copy paper

Gift Cards –

f

ood, gas, Staples
Thank you for supporting Clarina!