Get Involved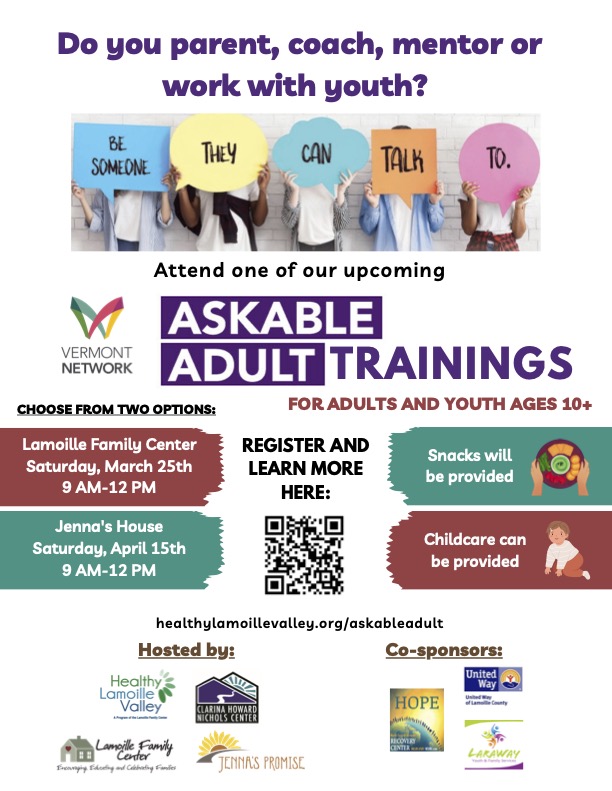 Join Clarina staff for a community training to become an Askable Adult! Perfect for parents, coaches, educators, and mentors of youth, the Askable Adult campaign builds trusting, affirming relationships between youth and adults through facilitating real-world scenarios and teaching concrete skills.
Interested participants can attend this free training on March 25, 9am-12pm, at the Lamoille Family Center in Morrisville, or on Saturday, April 15, 9am-12pm, at Jenna's House in Johnson. Please register ahead of time at healthylamoillevalley.org/askableadult.
For more information, contact Avalon Styles-Ashley, outreach coordinator and advocate, at astyles@clarina.org.
VOLUNTEERING
Volunteering in our shelter, or in other direct service roles requires 20 hours of training. If you would like to volunteer or discuss other ways to get involved, please contact us at info@clarina.org or call our business office at 802-888-2584.
Thank you for your interest!
OTHER WAYS YOU CAN HELP…
Speak Out – Find opportunities in your personal and professional life to stand up to domestic and sexual violence.
Volunteer Your Time – Clarina offers a variety of volunteer opportunities including:
Direct service as an advocate or hotline volunteer;

Specialized service based upon your skills including carpentry, fundraising, and marketing;

Board or committee membership; and

A

ssist

ance

with office functions and special events.
Participate in our Advocacy Training – Increase your knowledge of domestic and sexual violence and the efforts to create a violence free community.
Make a Financial Contribution – Support the sustainability of the Clarina Howard Nichols Center.
Donate items – most needed items include:
Shelter items – toilet paper, paper towels, laundry pods, towels, and garbage bags

Administrative items – postage and copy paper

Gift Cards –

f

ood, gas, Staples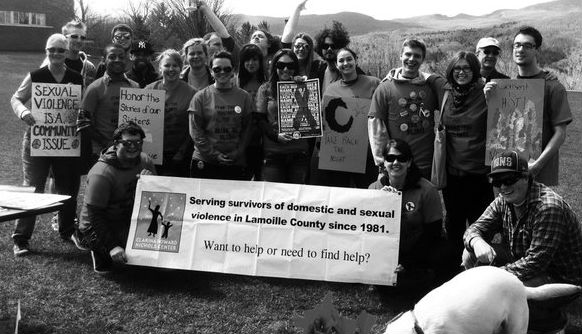 Thank you for supporting Clarina!