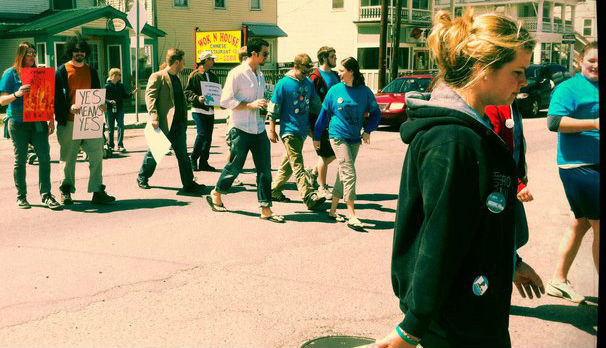 About the Clarina Howard Nichols Center
History
The Clarina Howard Nichols Center was founded in 1981 in response to an appeal from the community for consistent, quality services for women and their children. The center is governed by a volunteer Board of Directors. An anonymous donation enabled the Board to purchase a house in a quiet residential neighborhood, and the center opened in November of 1981.
Since then, support from the community and funding from federal and private grants have enabled us to provide services, support and shelter to victims and survivors of domestic and sexual violence.
We offer a diverse array of services dedicated to achieving our mission of ending domestic and sexual violence in Lamoille County, VT.  Through advocacy programs, outreach, direct services, and hotline, we serve more than 400 people annually.  Our services are free and confidential.  In 2014 Clarina opened our doors to survivors and their domestic companion animals, joining a nationwide SAF-T (Sheltering Animals and Families Together) initiative.
Her Story: Who is Clarina Howard Nichols?
Clarina Howard Nichols was born in Townshend, Vermont in 1810, and she was a journalist, activist, and public speaker on reform movements of that era, particularly abolition and women's rights.  A trailblazer for human rights, Clarina Howard Nichols was active in organizing in Vermont, Kansas, and California. For more information about this pioneering activist, visit here.
Thank you for supporting Clarina!
Our Impact
During the past year we:
Served 396 individuals
Answered 893 hotline calls
Had 4,117 encounters/contacts with survivors
Sheltered 51 individuals (36 adults and 15 children)
Provided criminal and civil court advocacy for 342 individuals